Are you looking for the best SeedProd website kits and templates?
SeedProd is a website and theme builder that comes with dozens of ready-made templates for almost every business niche.
These templates are designed to save you time. This means you don't need to manually build a site. Instead, you can import a ready-made SeedProd site kit to set up your WordPress website quickly.
In this article, we will share some of the best SeedProd site kits and templates to set up your website in one click.
How to Make a WordPress Website With a SeedProd Template Kit
SeedProd is the best WordPress website and theme builder. Over 1 million WordPress users trust SeedProd to build and customize their sites.
If you want to make a website, eCommerce store, or personal blog, then SeedProd is a one-stop solution with over 50 theme template kits, and they add new templates every week.
Whether you own a dry cleaning business or run a travel blog, you will find a built-in template kit for your niche. You can import one of these site kits in one click, and your website is ready.
Each SeedProd website template includes a homepage, landing pages, and a contact page. It also comes with dummy content and images, so you can see the final look of your website even before it's ready.
Then, all you need to do is replace the dummy content with your text and images. You can use the SeedProd drag-and-drop builder to customize the template.
Note: The links in this article go to theme previews. To add a site kit to your website, you will need to navigate to SeedProd » Theme Builder and click the 'Theme Template Kits' button. You can find detailed instructions in our guide on how to install template kits.
Without any delay, let's look at our hand-picked and best SeedProd site kits and templates.
1. Real Estate
The Real Estate theme template kit for SeedProd will let you create a customizable real estate website in seconds. Just click on the template to import it, and you are ready to customize the content, styling, and branding in SeedProd's visual editor.
Each property page contains photos as well as dimensions and other selling points. All of your listings are showcased together on the Projects landing page for easy browsing. There are also separate listings for houses and apartments.
The About page describes who you are, along with statistics for projects completed, underway, and more. You can easily add photos of your team to a grid.
The Contact page lists all of your locations, email addresses, and phone numbers and displays them on a convenient zoomable map.
2. Music House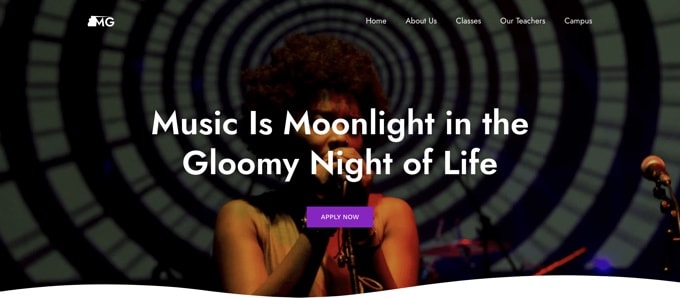 The Music House theme is the best SeedProd site kit for music teachers and educational institutions. With some tweaking, it's also suitable for bands, musicians, and other people in the music industry.
Besides offering an About Us and Campus (contact) page, you will find a page where you can list your classes, including fees and available days. There is also a page where you can add photos and details about all of your music teachers.
3. Conduct Construction
The Conduct Construction theme kit is suitable for anyone in the building industry who wants to list their services and show off their past projects.
The Services page offers a photo grid where you can display photos and descriptions of the types of building jobs you are able to handle. Underneath, this is a full-width section where you can add a wide photo and provide a written list of your projects.
The Projects page displays a photo gallery of your previous work. There are tabs along the top so your website visitors can filter by project type, such as 'Manufacturing Industry', 'High-rise', and 'Public Infrastructure'.
The About Us page lets you describe your corporate philosophy, display a chart of your accomplishments, and show statistics about your engineering workforce. All of these sections are easy to customize using SeedProd's drag-and-drop interface.
4. Venture Marketing Firm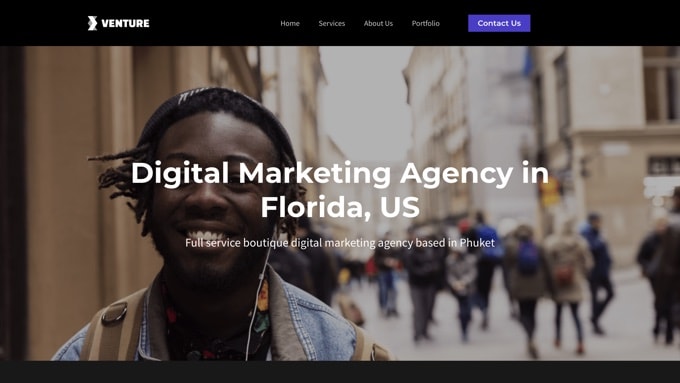 The Venture Marketing Firm theme template has a home page where agencies can show off what makes them unique, along with the types of marketing they provide. Full details of the services offered can be provided on the Services page.
A beautiful Portfolio page provides a photo gallery that can be filtered by project type. At the bottom of the page, your visitors can add their email addresses to request a proposal.
The Contact Us page features a map of your location, social links, and a newsletter sign-up form.
5. Wedding Invitation
The Wedding Invitation website kit lets couples share the details of their wedding with friends and family. This makes online invitations easy and is a helpful reminder for the date, time, and address of the ceremony and reception.
On the custom home page, there is room for you to tell the story of how you met, fell in love, and proposed. You can even create a photo timeline of your relationship on the Our Story page and add an album of your special memories on the Photos page.
The Join Us page serves two purposes. First, it provides a form where your guests can RSVP. Second, it displays a map of the venue where guests can easily find directions.
6. Travel Blog
The Travel Blog theme template kit allows bloggers to share stories, photos, and videos of their latest travel adventures and gear.
The front page offers a 'Start Today' button that takes readers to the Work With Me page, where they can subscribe to blog updates and your social channels. It also includes sections that display your latest videos and highlights places to visit.
The Destinations page displays your travel articles by geographic region in an attractive grid, and the Videos page allows you to embed your YouTube videos.
7. Dry Cleaning
The Dry Cleaning website theme is the best SeedProd template kit for local businesses like laundromats. The front page provides a handy summary of your services and the benefits your business offers. These can also be found on the Services page.
The SeedProd visual editor offers a Pricing Table block, and one has been added to the Prices page. You can easily customize this price list with your own prices and categories using SeedProd's visual editor.
At the bottom of the About page, SeedProd's Testimonials and Star Rating blocks have been added. These let you easily add customer reviews and ratings for your business to increase social proof.
The Contact page lists the addresses, emails, and phone numbers of each location of your business, along with a map that will help customers navigate to your stores.
8. e-Course Website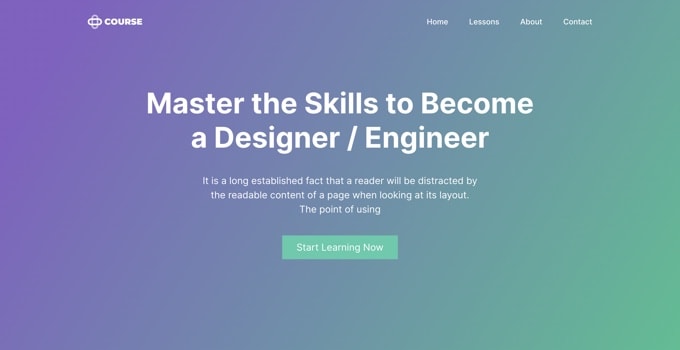 The e-Course Website theme will help you quickly create a website where you can create and sell online courses with WordPress.
The custom home page lets you introduce the courses you offer, display testimonials from your students, and more.
You can describe your courses in greater detail on the Lessons page. A 'Start Learning' button allows students to subscribe to the courses they are interested in.
The About page gives more details about your online business, and the Contact page allows potential students to reach out and ask for more information.
9. NM Advertising Agency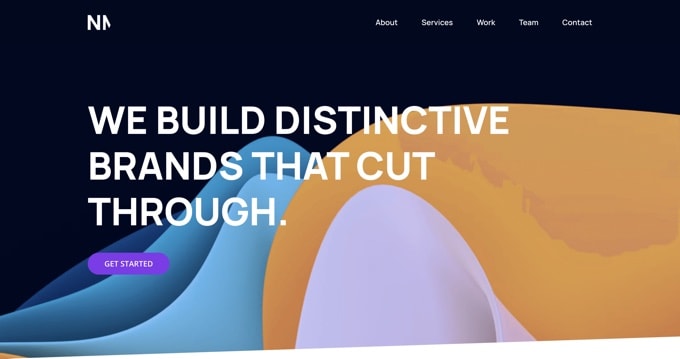 The NM Advertising Agency theme allows you to quickly create a website for advertising agencies and public relations specialists. You simply need to customize the site with information about your own business.
The front page displays helpful statistics and pie charts that demonstrate how you can help and the return on investment your clients can expect.
The Services page lets you spell out the variety of marketing and public relations services you offer, and you can share a portfolio of your prior projects on the Work page.
You can highlight the expertise of your staff on the Team page, and the Contact page allows potential clients to schedule an in-person visit or speak to a team member about their needs.
10. eBook Author
The eBook Author theme template kit is a great way to promote and sell your eBooks in WordPress. An attractive Bio page is included, which you can customize with your own story and Instagram photos.
Your books are listed in a grid on the Books page. This page also lets you highlight upcoming books and provides a form where your readers can subscribe for regular updates.
You will just need to choose your own shopping cart solution. We recommend Easy Digital Downloads, and you can learn how to set it up in our beginner's guide on how to sell digital downloads in WordPress.
11. Personal Trainer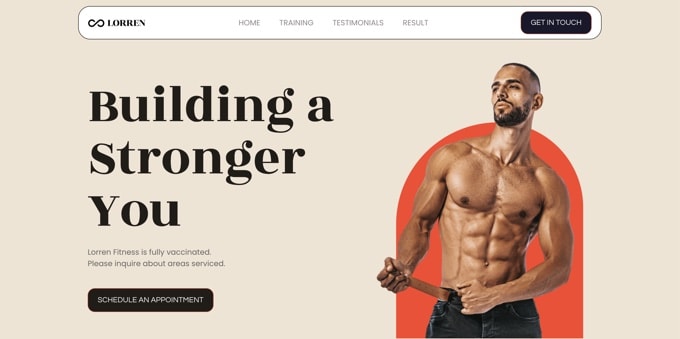 The Personal Trainer theme kit features a clean and attractive home page that will introduce your in-person or online training services to potential clients.
You can add an explainer video to the Training page where you introduce yourself and demonstrate your training methods. You can also customize the Packages and Rates section and add your own frequently asked questions using SeedProd's Accordion block.
You can add your best client reviews on the Testimonials page and tell the story of your own personal fitness transformation on the Result page.
There is a button on the home page where clients can schedule an appointment. This can take your clients to the WordPress appointment or booking plugin of your choice.
12. Child-Day Care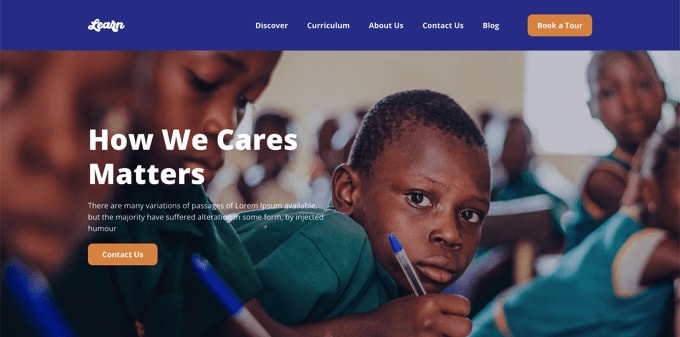 The Child-Day Care Website theme kit makes it easy to create an attractive website for a childcare or daycare center.
The theme will automatically create an attractive Curriculum page that you can customize with your own approach to early childhood education.
The About Us page can describe the values and benefits of your center. It also includes a 'Meet Our Leadership' section where you can add photos of your team.
The Blog entry in the navigation menu lets you keep your audience up to date with the current events in your daycare center and share educational tips on raising young children.
Finally, you can customize the 'Book a Tour' button to allow parents to send you an email or take them to your online booking form in WordPress.
13. Juice Bar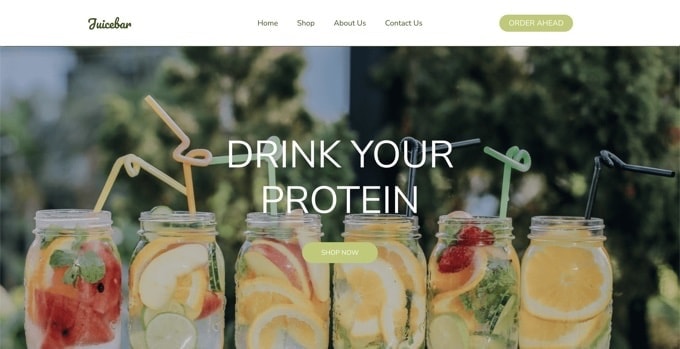 The Juice Bar website theme kit for WooCommerce lets you quickly set up a beautifully-designed online store. By default, this store template features bottled juice and other beverages, but it can be easily customized for other products.
The home page is set up to highlight product collections, items on sale, and other featured products. SeedProd offers helpful blocks to automatically display Recent Products, Sale Products, Best Selling Products, Featured Products, and Top Rated Products.
The Shop item in the navigation menu takes customers to all of your products, and clicking on a product displays the product page. The 'Add to Cart' buttons are live and add products to the WooCommerce shopping cart.
14. Computer Technician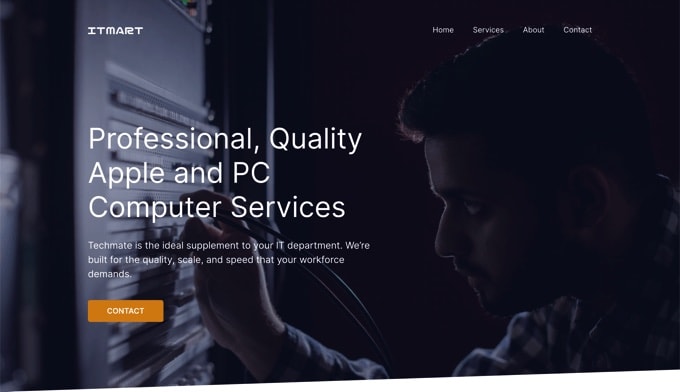 The Computer Technician theme is the best SeedProd template kit for anyone who offers IT-related services. The front page contains sections that can be customized to describe your business, display testimonials, and demonstrate how you save your clients time and money.
The Services page can display any number of services that you may offer, like data recovery, Apple product service and repair, and laptop repair. These can be easily edited to suit your own business.
Like most themes, there are also About and Contact pages. The Contact page has a contact form where your clients can get in touch with you.
Frequently Asked Questions About Site Kits and Templates
Here are some questions we are often asked about SeedProd site kits and template kits.
What is a template kit?
WordPress template kits are collections of pre-designed templates, layouts, and other elements that allow you to create a professional-looking website without writing code.
They are a powerful feature of some drag-and-drop page builder plugins and may be called website kits, website templates, or WordPress starter templates. In SeedProd, they are called theme template kits.
What is the difference between a WordPress theme and a template kit?
WordPress allows you to customize the appearance of your website by installing themes. Themes determine the overall look of all the pages on your site. There are thousands of WordPress themes available (both free and paid).
A template kit is a feature of a drag-and-drop page builder plugin, such as SeedProd. It comes with designs for common pages such as an About page, a Contact page, and a custom home page. It may also provide templates for areas that appear across multiple pages, such as a header and footer template.
The benefit of template kits is that they are easier to customize using the drag-and-drop page builder. They also have more customization options than standard WordPress themes.
What is the best SeedProd site template kit?
There isn't one SeedProd site template kit that is best for every website. Instead, you should choose a site kit designed for your industry or niche. Luckily, SeedProd has many different site kits for all kinds of websites and businesses.
You should take into consideration the appearance of the kit as well as the extra custom pages it creates for you.
Before making the kit live, you will need to replace the demo content. You may also want to change the kit's branding to better match your own business. It's easy to customize every part of the design using the drag-and-drop editor.
We hope this tutorial helped you find the best SeedProd site kits and templates. You may also want to see our guide on how to speed up WordPress performance or our expert picks for the best email marketing services to grow your business.
If you liked this article, then please subscribe to our YouTube Channel for WordPress video tutorials. You can also find us on Twitter and Facebook.